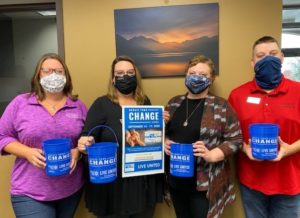 Check under the cushions, clean out the car and bring your spare change to one of 14 participating banks in Walworth County September 14-19, during the United Way of Walworth County's Change Lives event.
"One donation, no matter the size, can impact hundreds of lives throughout Walworth County," said Tammy Dunn, Executive Director of the United Way of Walworth County.  Donations will collectively help neighbors in need while improving coin circulation in Walworth County for area businesses affected by the current coin shortage.
One hundred percent of donations collected will remain local.  "Many people think that a large percentage of their donation to the United Way of Walworth County goes to support the national organization," Dunn said, "when in fact, we pay only two percent in annual dues and receive so many national contributions that it not only makes up that two percent, but covers all of our annual administrative expenses."
That spare change in the center console of your car can keep food pantries stocked and Walworth County individuals and families in their homes. It can provide medical, behavioral and dental assistance to those most vulnerable.  Your change can help defenseless women and children, provide mentoring programs, support conservancy, and bring critical programs like EZ ID to Walworth County.  That jar of change in your office can educate neighbors on dementia, trafficking, drug abuse, and citizenship. "What seems like only a few dollars in change quickly adds up and will change lives throughout Walworth County," said Dunn.
Change can be dropped off at the following banks:  Associated Bank in East Troy, Elkhorn and Lake Geneva; Citizens Banks in East Troy; First National Bank and Trust in Darien, Delavan, Elkhorn, Walworth and Williams Bay; and Town Bank in Delavan, Lake Geneva and Walworth.
The United Way of Walworth County raises money year-round to disperse among over 40 supported local agencies fighting for health, education and financial stability for every Walworth County resident.  Call 211, FamilyWize prescription savings, and the Emergency Food and Shelter Program are among other United Way contributions to the area.  UWWC also focuses on strengthening local charitable agencies through collaboration and countywide volunteerism.  The office is located at 203 E. Walworth St., Elkhorn and can be reached by phone at 262-374-4474.  More information is available at www.unitedwaywalworth.org. Pictured is participating bank, Citizens Bank, from left:  Alaina Ford, Beth Keizer, Jennifer Christensen, Jake Starck