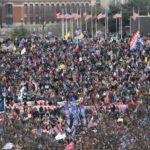 A federal jury found four members of the far-right group Oath Keepers guilty on charges of seditious conspiracy Monday.  According to NBC News, a U.S. District Court in Washington determined that Roberto Minuta, Joseph Hackett, David Moerschel and Edward Vallejo are guilty of seditious conspiracy for their actions on and leading up to the Jan. 6, 2021, attack on the U.S. Capitol Building. The decision comes after a five-week trial and more than two days of jury deliberations.
The four were also found guilty of obstruction of an official act, aiding and abetting, and conspiracy to prevent a member of Congress from discharging their official duties, and were found guilty of trying to prevent the certification of results of the presidential election. According to CNN, Hackett also was found guilty of tampering with documents or proceedings The four convicted will be under house arrest with limited Internet access until their sentencing date, which is yet to be determined. The maximum sentence for seditious conspiracy is 20 years in prison.
In addition, Richard Barnett — the man photographed with his feet on Rep. Nancy Pelosi's desk — was found guilty on eight counts for his actions on Jan. 6, including disorderly and disruptive conduct in a restricted building with a dangerous weapon and theft of government property.
Editorial credit: Gallagher Photography / Shutterstock.com