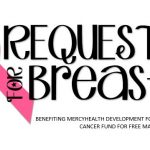 Join us in the fight against breast cancer during the Lake 961 Requests for Breasts fundraiser!

Donate $10.00 or more, and we'll play your dedicated request on Fridays through the month of October!
Donate $500 or more, and you can be a guest host on "A Curt & Melody Morning!"
All donations will be used to pay for mammograms for women who cannot afford them – through the MercyHealth Development Foundation's Cancer Fund!
PROUDLY SPONSORED BY: